*Please note there are affiliate links within this post. Should you make a purchase through them, the author may receive a portion of the sale at no cost to you. For more information click here.*
When I was a homeschool kid online learning wasn't even an option. So, when I first began homeschooling my little ones using online resources wasn't even a thought in my mind. I was blessed to have been gifted all of the homeschool curriculum that my mom had used. It was a great start, but over the last 10 years, I've learned that online learning is beneficial in many ways!
As a busy homeschool mom that happens to be a professional blogger and runs a family business, time is precious.  I do not have a lot to be wasted. Flexibility is a must. Balance is constantly being pursued. Schedules are a thing of the past.
Online learning has become an essential part of our homeschool. We use online courses and digital curriculum for more than half of our homeschool resources. I've found that not only do my children love them, but they help keep my life simple by saving me time, money and space.
The first online curriculum we used was from Unit Study.com. My children were young and they loved learning about animals, watching videos about them online and completing fun activities. We still enjoy using these resources to this day!
Taking that first step into online learning was easy for me and fun for my kids. However, I saw it as a way to change
things up for a time, not to use as our main curriculum resources.
As my children have gotten older I've found that there are a few subjects that I don't enjoy teaching. For example…Math is #1. I'm not a mathematician, so that was the first subject that I outsourced just before my children entered high school. I love music, but my children enjoy different genres than I do. These online music courses have been a tremendous blessing to our homeschool!
If you aren't sure how to start using online learning in your homeschool, I can help! After a few steps, you'll be ready to go!
5 Steps to Using Online Learning in Your Homeschool
Choose a subject that you need to outsource.
This is the best way to get started with online learning! Consider what subjects you either don't like to teach or don't feel qualified to teach at this time.
Determine what type of resource would be right for your homeschool.
There are a few choices for online learning that you'll need to consider. Digital curriculum typically comes in an e-Book/PDF
format. This makes it easy to upload the files to your child's computer or tablet. Online courses require an internet connection to complete. These often include video, audio and/or quizzes. Online classes usually offer live or recorded options. They are taught by a specific teacher and grading is one of the best benefits of this online learning option in my opinion!
Begin researching online learning options.
Not sure where to start? Many of the major homeschool curriculum publishers offer online learning options. Asking fellow homeschool moms for recommendations is easy via homeschool Facebook groups.
Ask your children for input.
Once you've narrowed down your options, take time to ask your kids what they think of the online learning resources you're considering. I've found that the best online resources for our homeschool is selected with the input of both my children and myself.
Add online learning resources to your homeschool.
The last step is the easy one! Start using your new online learning resources. Add them to your homeschool schedule or weekly plan and start learning.
(Want some great online courses?  Check out the True North Homeschool Academy catalog.)
Using online learning is one of the best decisions I've made for our homeschool. It has given my children the opportunity to learn independently, teaches responsibility and provides me with a bit more time in my busy days.
How do you use online learning in your homeschool?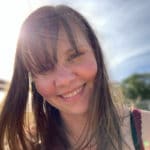 Misty is a Daughter of THE King, Texas girl, Navy brat at heart, loving Fisherman's wife, blessed homeschooling mother of 2, founder of Year Round Homeschooling and author of Beautiful Ashes. She is passionate about being real through every stage of life and encouraging homeschool moms throughout their homeschool journey. Her heart is full of ideas and passions, but the hours in her day never multiply to get it all done. Misty enjoys reading, music and photography in her spare time. You can find her on Facebook, Twitter, Pinterest and Instagram.